About us
---
Our programs help students, including adults and veterans, embrace physical and emotional challenges in a group of their peers, find space for reflection, and cultivate skills like confidence and compassion that enable them to contribute to meaningful change in their communities and the world.
We are dedicated to opening up access to outdoor educational programs, more than ⅔ of our participants receive scholarships to attend.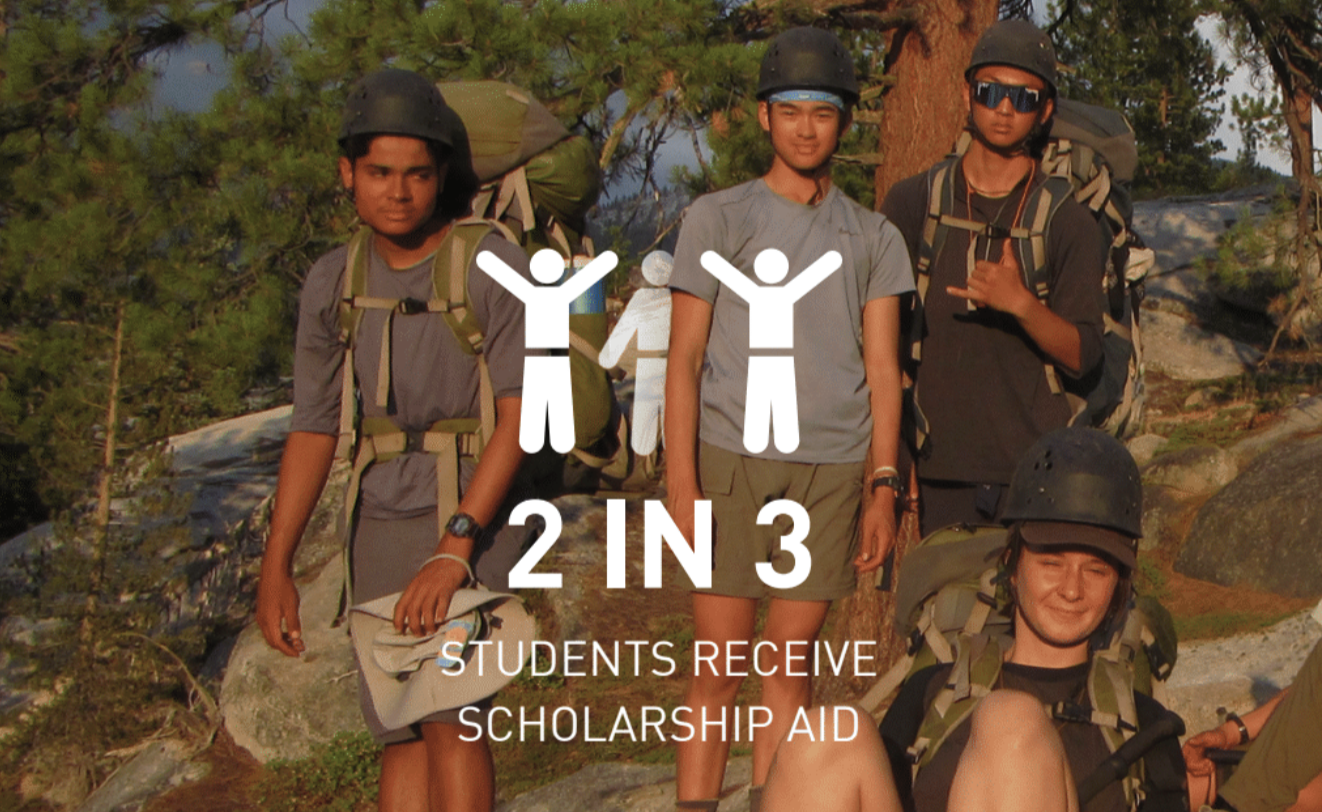 Jump to:
EDUCATIONAL APPROACH AND IMPACT
Who We Are
Mission
To change lives through challenge and discovery.
Vision
More compassionate people for a more compassionate world.
Equity
Outward Bound California was founded to rebalance the lack of high quality social-emotional learning opportunities in schools and communities and the disparity in access to healing power of natural spaces, particularly for youth of color and those from low-income communities. We believe that all people should have safe access to the outdoors and culturally relevant and responsive educational programming.
We want to create an equitable and inclusive organizational culture where all staff members feel represented and honored for their identities and lived experiences. We examine how power, bias, race and other aspects of identity impact our work with each other and in our programs. We work to build a culture where we are always learning and improving toward a vision for equity and belonging for all staff and students.
We provide experiential outdoor programs to individuals, ages 12+ including adults, and to more than 60 partner organizations across the state. Our students represent the diverse communities in which they live.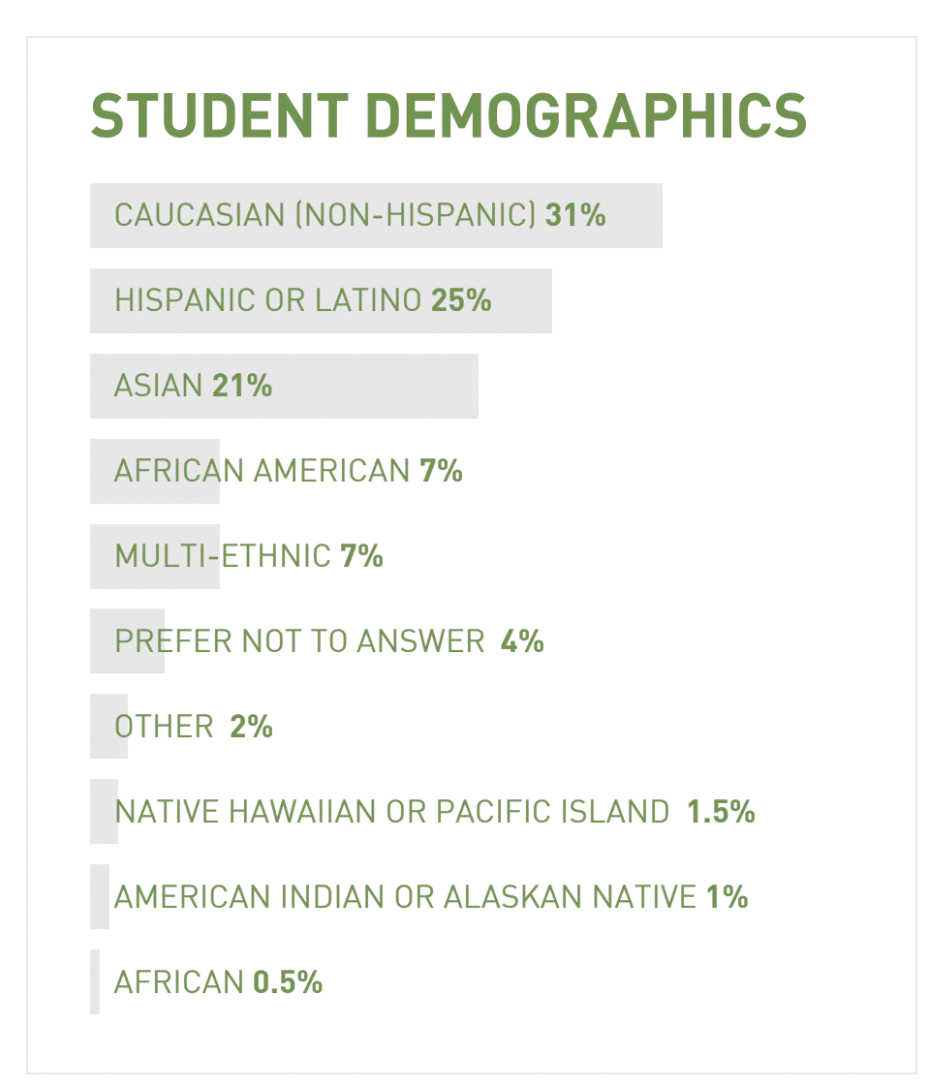 We provide a progression of programs where students can join at the beginning and move through every type of experience or come to us at any point along the way. The goal is to offer an entry point for every student, no matter their comfort level or resources. With just one experience, or through the entire progression, participants develop important skills for success and a love of the outdoors they carry for the rest of their lives.
We offer 1-day programs, or a series of 1-day programs, on our Ropes Challenge Course in San Francisco's John McLaren Park. Watch the Welcome to OBCA's Ropes Challenge Course video.
In the Sierra and Joshua Tree, we offer multi-day basecamp, rock climbing and backpacking expeditions that range from 4-30 days, either for groups, or on an Open Enrollment course, which is open to individual applicants from anywhere in the world. Watch OBCA High Sierra Programs and Desert Camping in Joshua Tree National Park
We also facilitate customized programs for companies and educators looking to increase teamwork, connectivity, community service, and wellness in their workplace and community.
For 16 years, we have worked to address the obstacles that continue to keep traditionally excluded communities from meaningful engagement with nature. These include financial barriers like cost of programs, gear, transportation, time off work, and cultural barriers like emotional safety, familiarity, culturally responsive programming and instructional staff that share identities with participants. We offer scholarships to groups, open enrollment applicants, veterans, LGBTQ+ youth, people of color, Pinnacle Scholars, and our year-long, service-oriented Youth Leaderships Corps. See all scholarship opportunities here.
From the beginning, we've heard from students about the magic they experienced on course. They developed deep relationships, increased confidence and tapped into empathy. More than two decades of research has shown that success in life is dependent on the development of social and emotional skill development which is core to an Outward Bound course.
In 2017, Outward Bound USA - in partnership with Partnerships in Education and Resilience (PEAR) - established the Outward Bound Professional Learning Lab (The Lab). The Lab's goal is to provide the best Outward Bound experience for every student. The Lab accomplishes this by collecting and analyzing data on program delivery and student outcomes and using that data to inform program improvement and staff training.
The data used in the analysis is reported by students (ages 12-23) at the end of their course by completing the Outward Bound Outcomes Survey (OBOS), which measures key indicators of social and emotional development for young people leveraging our four domains - Belonging, Courage, Physical Engagement, and Reflection.
We are proud to say through thorough analysis of this data, our results showed that students who took the survey reported statistically significant positive change across all twelve measures (Assertiveness, Perseverance, Teamwork, Group Relationships, Physical Confidence, Emotion Control, Self Regulation, Empathy, Responsibility, Self Awareness) for one-day and overnight programs. This positive change holds true across racial and gender identities.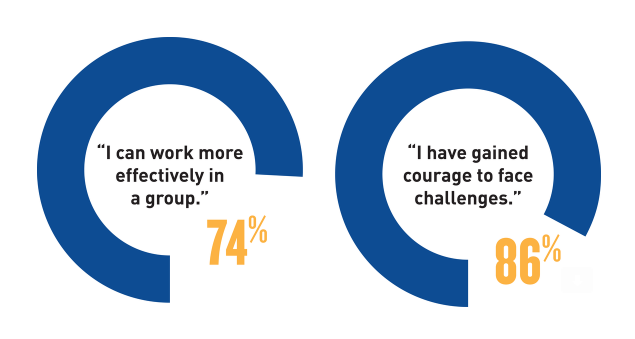 To see Social Emotional Learning in action, visit the Domains of Thriving page.
OUR STORY
For decades, our history has been written with Kurt Hahn at the center, credited solely as the founder of Outward Bound. As we evolve and learn more of our own origin story, another important influence has emerged: Marina Ewald. The roots of Outward Bound were a training program for young men in the military during WW2 and it expanded across the globe to former British colonies. As such, our history is complex. Our curriculum has evolved over the decades to support students facing present day challenges. This requires us to critique our legacy, culture, and traditions so we don't perpetuate many of the exclusionary practices and power dynamics of our past. Read the full Outward Bound history here.
Outward Bound has grown into what we know it as today with more than 1.5 million alumni in the United States and schools in 35 countries worldwide with 10 chartered schools in the United States.
Outward Bound California was founded in the Presidio, a national park in San Francisco, in 2008. It was the first urban-based Outward Bound center on the West Coast. Expeditions were already running in the High Sierra through the greater Outward Bound network. That programming merged with the urban center in 2012 to provide the progression of programming referenced earlier to students across the state. In 2014, OBCA expanded programming to Southern California by re-opening a basecamp in Joshua Tree, a location Outward Bound had been running programs since the 70s. In 2020, the Challenge Course in John McLaren Park was opened. The Challenge Course is open to schools, nonprofits and organizations, but also is open to the general public one day a month.
Through all of these programs 3,000 students annually push their limits and access their best selves in California's most iconic State and National Parks, wilderness areas and urban parks.